AAPKK 30 éves Jubileumi European Club Show, Budapest –
2021.12.30.
A részletes eredménylista megtekinthető az alábbi linkre kattintva:
Europa Club eredmények 2021
BEST IN SHOW
1. SEVENTY SEVEN IDEAL FOR LIFE, Australian Shepherd
(Seventy Seven Rurikovichi My – Seventy Seven Turmalin Bracelet)
T: SHEYNINA N. V. t: Anastasiia Kolchukova, KOLCHUKOVA A.
2. STONEHAVEN PRIDE HARD ROCK, Collie Rough
(Int.ch Riverside Song Rock My World – Int.ch Stonehaven Pride Gentle Touch)
T: Peresné Csokona Bernadett t: Peresné Csokona Bernadett, Ambrus Andrea
3. DANDLEWOOD END OF STORY, Shetland Sheepdog
(Int.Ch. Lundecock`s Surprise Packet – Dandlewood Knickers In A Twist)
T: Xander van Ulsen t: Xander van Ulsen, Jasper van Ulsen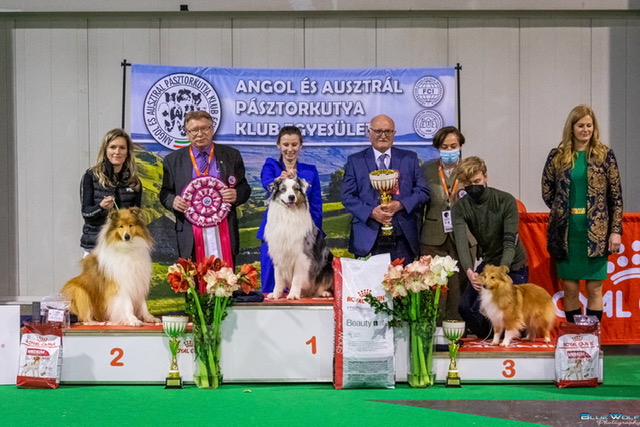 JUNIOR BEST IN SHOW
1. ETCHED IN SAND BY THE LAKE, Border Collie
(Dalguise Dream Affair – Breaking Dawn By The Lake)
T: Sólyom Tímea t: Sólyom Tímea
2. KELERANO NIRVANA FROM AKAI MYSTERY, Collie Rough
(Akai Mystery Paint It Black – Akai Mystery Show Must Go On)
T: Selina S.V. t: Viktoriia Treskova, Treskova V.V.
3. MAJOR POINT MR BRIGHTSIDE, Welsh Corgi Cardigan
(Major Point Zucchero – Major Point Viva La Vida)
T: Mayorova N.A. t: Kalinichenko Viktoria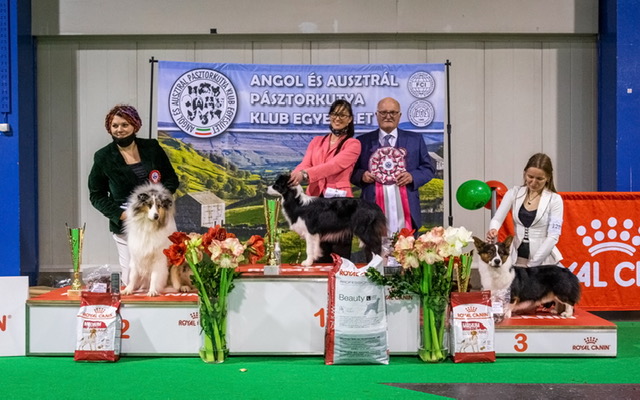 BOS BEST IN SHOW
1. LUNDECOCK`S SURPRISE PACKET , Shetland Sheepdog
(Int.Ch. Limbunya Orion – Cib Se Dk Ch. Lythwood Summer Surprise)
T: Johnny Andersson, Ulrika Nordieng t: Xander van Ulsen, Jasper van Ulsen
2. MAJOR POINT VIOLET HILL, Welsh Corgi Cardigan
(Xtacee By Green Sand Beach – Aethwy Russian Ballerina)
T: Mayorova Natalia t: Bobkova Liubov
3. MEMORYLANE BACK TO BLACK FLIRT , Bearded Collie
(Memorylane Soooo Irresistible – Memorylane Paradise Of A Flirt)
T: NINA BRUSIN t: Nina Brusin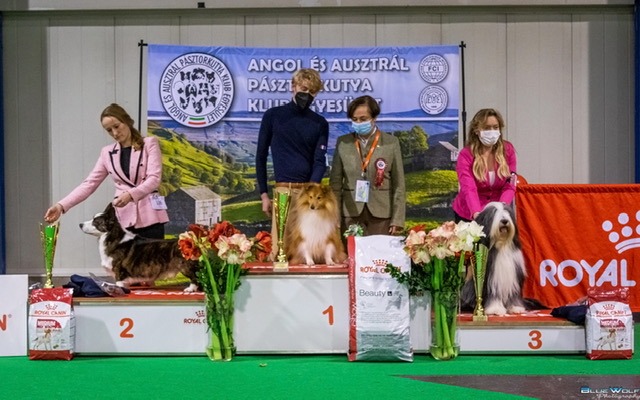 VETERAN BEST IN SHOW
1. APPLE PIE OF BLUE PAPRIKA LEGEND, Australian Shepherd
(Tanmark`s Flapjack N Juice – Good Vibration Des Phantomes Des Callas)
T: Dr. Bozi Tímea t: Hábenczius Anita
2. SCOTTLYME MIDAS TOUCH, Collie Rough
(Gb.ch Jopium Touch Of Soul For Triburle – Scottlyme Irish Kiss For Salsina)
T: Dora Richter t: Peresné Csokona Bernadett
3. LEGOLAS FROM JUMPING RIVER, Border Collie
(Multi Ch. Skynavigator – Multi Ch. Valecroft Dark Charm From Fayken)
T: Allevamento From Jumping River t: Gobbi Francesca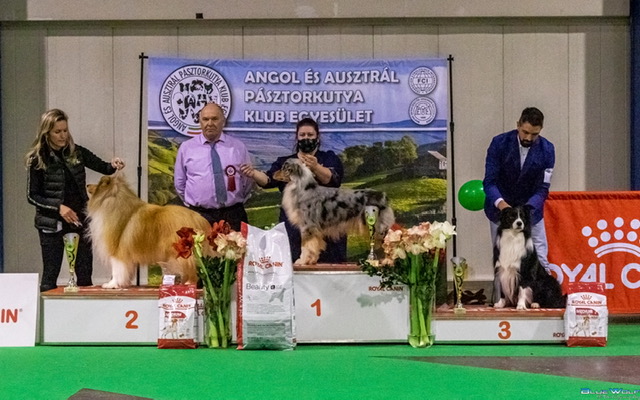 PUPPY BEST IN SHOW
SILVER DREAM AUSSIE`S U ARE MY EVERYTHING
(Silver Dream Aussi`s Fun Factory – Silver Dream Aussi`s Promise Me Please)
T: KORÓZS PAPP JUDIT t: Hollósiné Varga Ilona
BORN TO BE YOUR LAPHROAIG, Welsh Corgi Pembroke
(Ginger Elf Spirit Of Ecstasy – Almoneira Cinderella Born To Be A Princess)
T: Trefán- Török Alexandra, Trefán Sándor t: Kettler-Varga Luca & Kettler Zsolt
BORN TO BE YOUR UNITED POWER, Collie Rough
(Beldones Napoleon – Tamira's Miracles Born To Be Dharma)
T: Trefán Török Alexandra;Trefán Sándor t: Várnai dr Zsuzsanna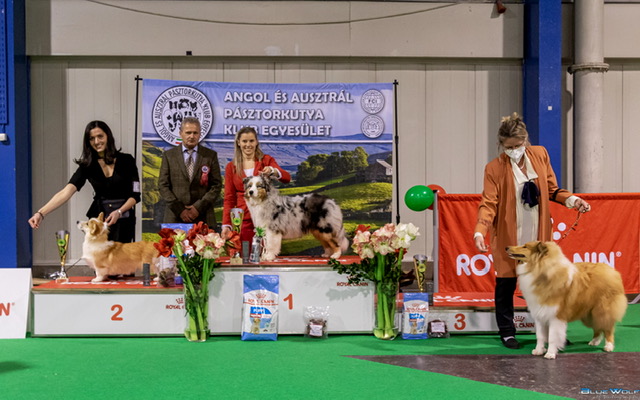 MINOR PUPPY BEST IN SHOW
1. TORRINO PRIDE ROCK, Collie Rough
(Gb.ch Beldones Tom Wood – Torrino Gossip Girl)
T: Montini Alessandra t: Peresné Csokona Bernadett
2. MYSTIC MOONLIGHT BLUE NAVAJO DREAM, Shetland Sheepdog
(A Little Romance Licelitte – Mystic Moonlight Blue True Love)
T: Madránszkiné Piros Anita t: Madránszkiné Piros Anita
3. BORN TO BE YOUR PAGANI ZONDA, Welsh Corgi Pembroke
(Ginger Elf Spirit Of Ecstasy – Born To Be Your Rachel Allen)
T: Trefán-Török Alexandra, Trefán Sándor t: Kerti Zoltán Attila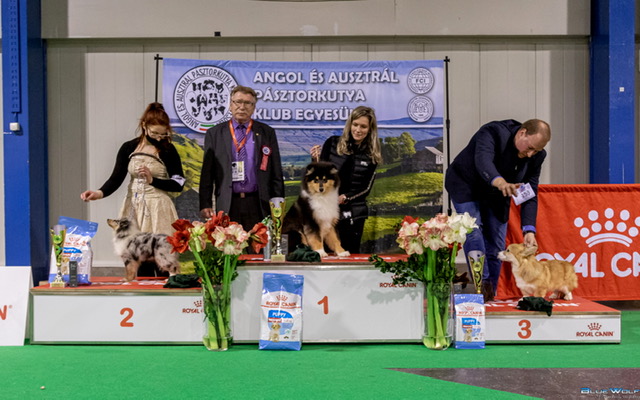 Hobby Best In Show
1. COOL PANDA VON DER GONDHAUZI
(Twinan Make Mine A Smoothie – Aurora Von Der Gondhauzi)
T: Gondos József t: dr. Izing Simonné Czank Eszter Borbála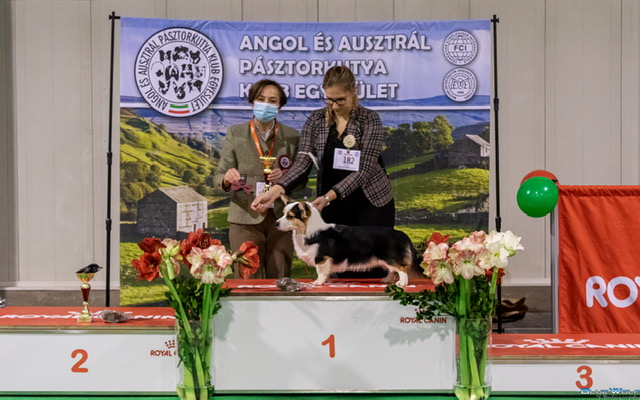 Tenyészcsoport
1. MAJOR POINT Welsh Corgi Cardigan kennel, T.: Natalia Mayorova (RUS)
2. MEMORYLANE Bearded Collie kennel, T.: Nina Brusin (FIN)
3. MOST MAJESTIC Collie Rough kennel, T.: Kállay Krisztina (H)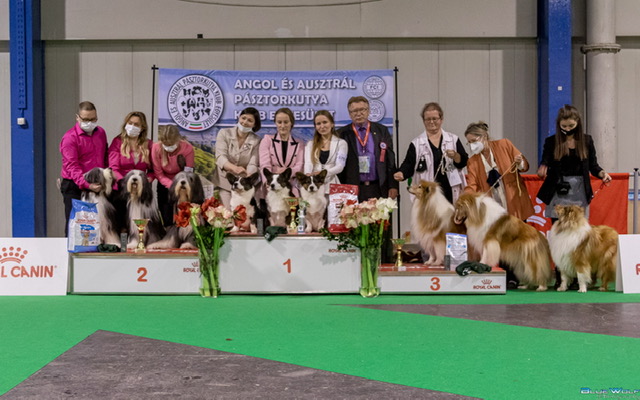 Kutyapár
1. Bearded Collie, t.: Nina Brusin
2. Welsh Corgi Pembroke, t.: Kerti Zoltán
3. Collie Rough, t.: Dr. Várnai Zsuzsanna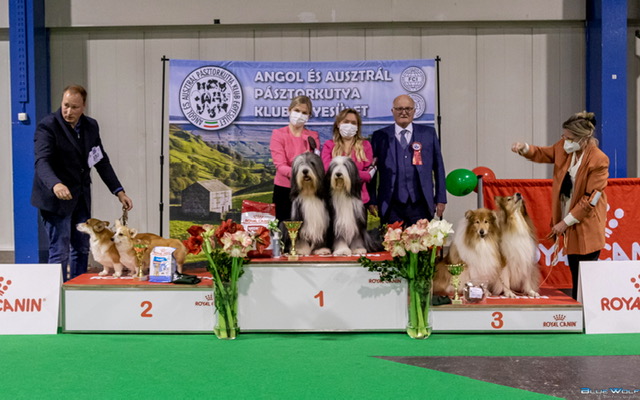 Senior Handler
1. Anastasiia Baidina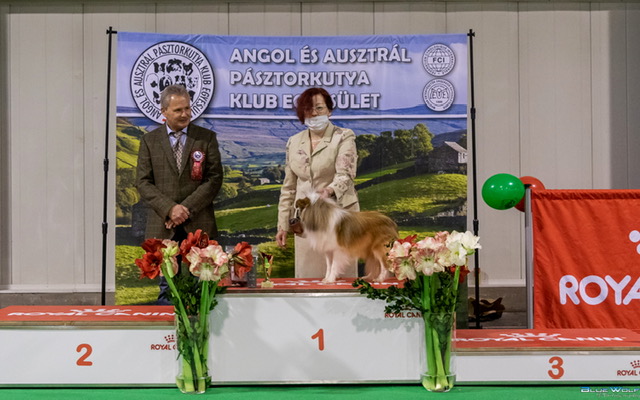 Junior Handler
1. Garasanin Petra
2. Bóna Boróka
3. Kotryna Zelmyté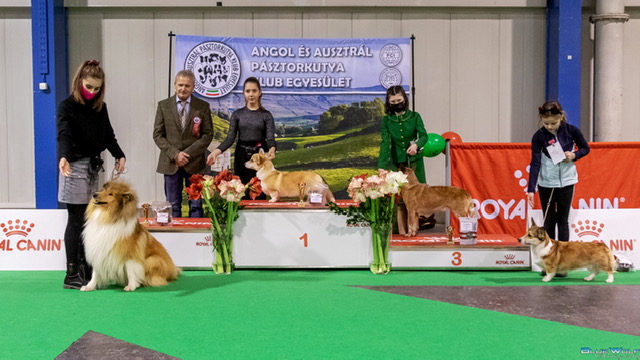 Gyerek-Kutya Pár
1. Hollósi Lara Gréta
AAPKK LEGSZEBB KUTYÁJA VÁNDORSERLEG
Stonehaven Pride Hard Rock
T + t: Peresné Csokona Bernadett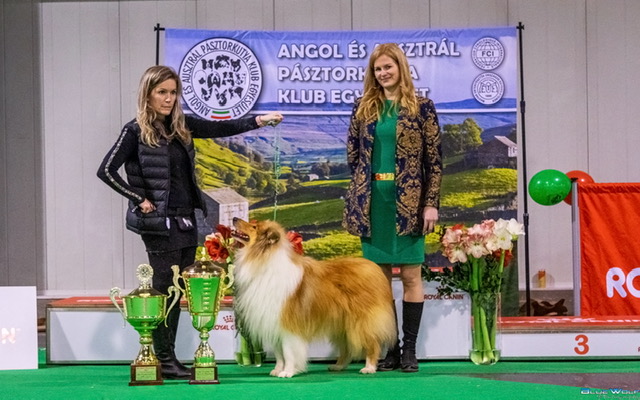 Legszebb Hazai Tenyésztésű Collie VÁNDORSERLEG
Stonehaven Pride Hard Rock
T + t: Peresné Csokona Bernadett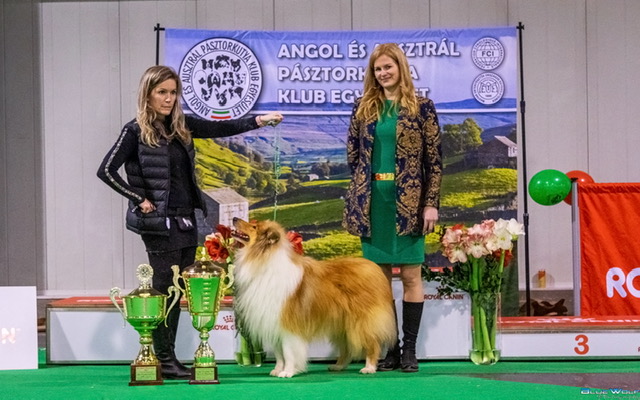 COOPER Kupa – Legszebb Bearded Collie Kan VÁNDORSERLEG
Memorylane Undercover Flash
t + t.: Nina Brusin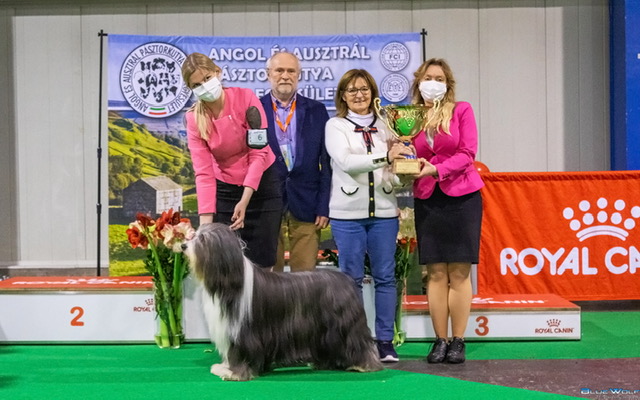 NAPOLEON Kupa – Legszebb magyar tenyésztésű Welsh Corgi Pembroke VÁNDORSERLEG
Born To Be Your Morning Dreams Come Treowe
T.: Trefán-Török Alexandra és Trefán Sándor t.: Vlascic Aleksandra és Szép Bernadette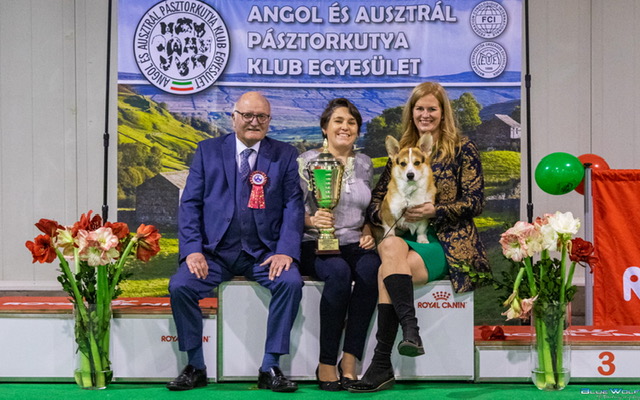 LAVINA Kupa – Legszebb magyar tenyésztésű Welsh Corgi Cardigan VÁNDORSERLEG
PIETRA of Trefilio Borntobe Colt Sixth Action
T.: Trefán Sándor t.: Kovács Dániel